Smart Suprex Engine Repair
It's a well known fact that the 3 cylinder suprex engine has issues with oil control rings and glazed cylinder bores. Occurring usually between 45,000 to 65,000 miles, which results in excessive oil consumption and higher burn temperatures in the combustion chamber, culminating in loss of compression and misfire due to burnt out exhaust valves and /or piston failure.
The only way to correct this issue, is to stop the oil burning by stripping the engine. To replace piston rings and re-honing cylinders bores. Also to refurbish the cylinder head and any other mechanical issues found.
599cc First Aid Repair
Details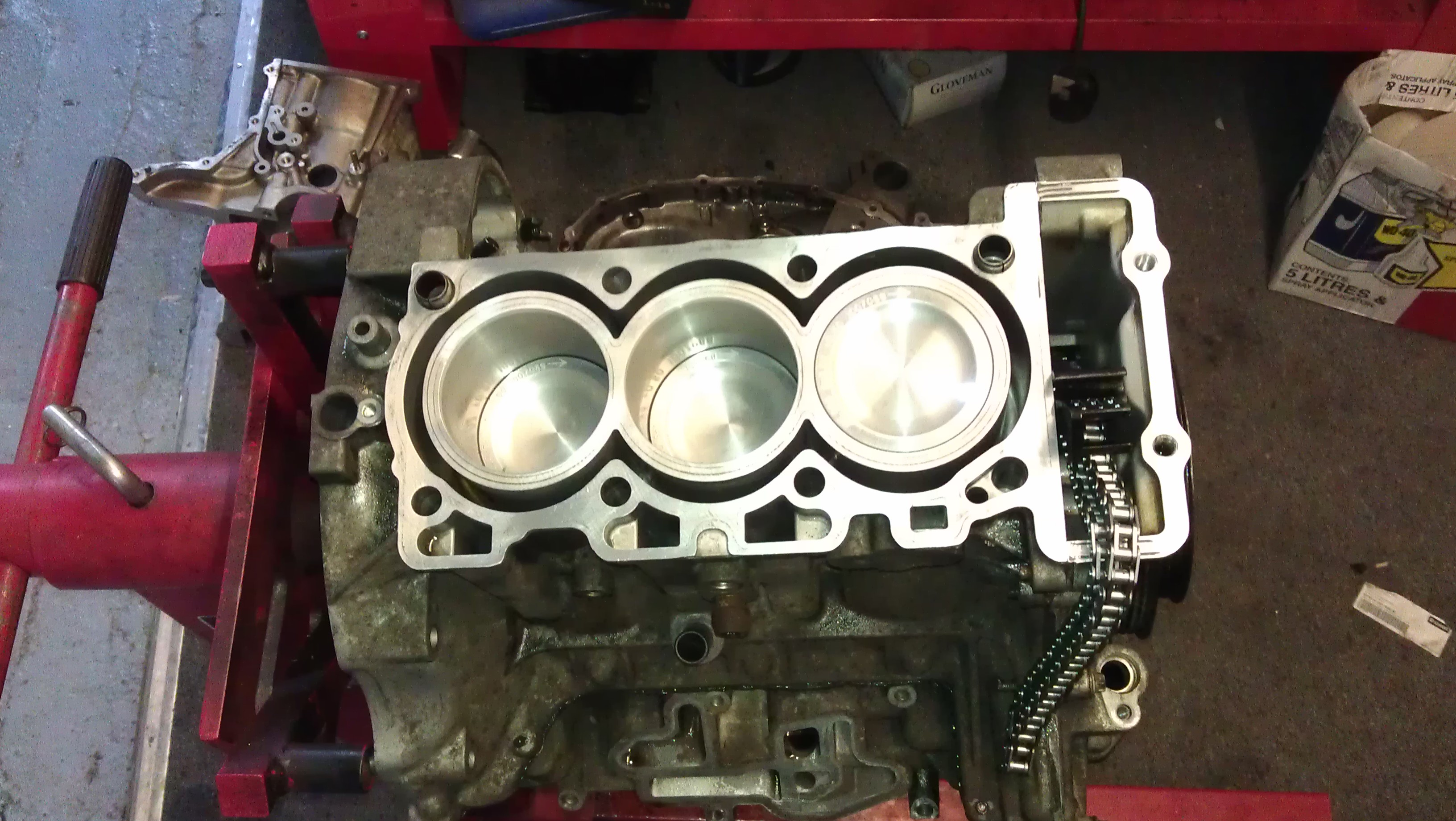 REMOVE CYLINDER HEAD ,STRIP,  CLEAN  AND INSPECT THEN REFURBISH WITH  PARTS REQUIRED.  REMOVE OIL PAN AND  CON ROD PISTONS. CLEAN AND INSPECT PISTONS   FIT NEW RINGS AND BIGEND BEARINGS
MEASURE AND HONE CYLINDER BORES, CLEAN LOWER ENGINE TO REMOVE ANY DEBRIS, REFIT PISTONS TO BLOCK WITH NEW BIG END BOLTS.   FIT NEW OIL PAN.  REFIT CYLINDER  HEAD TO ENGINE WITH NEW GASKET.NEW OIL AND FILTER,SPARK PLUGS AND REPLACE COOLANT.  ROAD TEST
**599cc FIRST AID REPAIR**From   £745.00 + vat
12 mths Warranty OR 12000 Miles
NOTE** WARRANTY MAYBE REDUCED IF VEHICLE IS TUNED**
599cc Refurbish
Details
REMOVE ENGINE FROM CAR
STRIP – CLEAN AND INSPECT ENGINE
CHECK BORES AND PISTONS FOR WEAR
CHECK CRANK SHAFT FOR WEAR REGRIND IF NEEDED AT EXTRA COST
IF BORES BADLY WORN THEN REBORE AND PISTONS REQUIRED AT EXTRA COST
FIT NEW PISTON RINGS AND BEARINGS
HONE CYLINDER BORES
FIT NEW MAIN BEARINGS
REFIT PISTONS TO BLOCK
REFIT CRANKSHAFT
FIT NEW OIL PUMP
REPLACE PUMP CHAIN KIT
REPLACE TIMING CHAIN AND GUIDES ETC.
REFIT TIMING COVER WITH NEW OIL SEAL
FIT NEW REAR CRANK OIL SEAL
FIT NEW OIL PAN
REBUILD CYLINDER HEAD WITH NEW VALVES AND SEALS(BRABUS SPRINGS AVAILABLE AT EXTRA COST)
REFIT CYLINDER HEAD NEW GASKET AND BOLTS
REFIT CLUTCH AND GEAR BOX ASSY
REFIT ANCILLARIES
REFIT ENGINE TO CAR
NEW SPARK PLUGS
NEW OIL AND FILTER (AIR FILTER AND FUEL FILTER AT EXTRA COST)
REPLACE GEAR BOX OIL
REFILL COOLANT
ROAD TEST
12 mths Warranty OR 12000 Miles
NOTE** WARRANTY MAYBE VOIDED IF VEHICLE IS TUNED**
               599cc Refurbish***From   £1150.00 + vat
                                           698cc Refurbish
Details
REMOVE ENGINE FROM CAR
STRIP – CLEAN AND INSPECT ENGINE
CHECK BORES AND PISTONS FOR WEAR
CHECK CRANK SHAFT FOR WEAR REGRIND IF NEEDED AT EXTRA COST
IF BORES BADLY WORN THEN REBORE AND PISTONS REQUIRED AT EXTRA COST
FIT NEW PISTON RINGS AND BEARINGS
HONE CYLINDER BORES
FIT NEW MAIN BEARINGS
REFIT PISTONS TO BLOCK
REFIT CRANKSHAFT
FIT NEW OIL PUMP
REPLACE PUMP CHAIN KIT
REPLACE TIMING CHAIN AND GUIDES ETC.
REFIT TIMING COVER WITH NEW OIL SEAL
FIT NEW REAR CRANK OIL SEAL
FIT NEW OIL PAN
REBUILD CYLINDER HEAD WITH NEW VALVES AND SEALS(BRABUS SPRINGS AVAILABLE AT EXTRA COST)
REFIT CYLINDER HEAD NEW GASKET AND BOLTS
REFIT CLUTCH AND GEAR BOX ASSY
REFIT ANCILLARIES
REFIT ENGINE TO CAR
NEW SPARK PLUGS
NEW OIL AND FILTER (AIR FILTER AND FUEL FILTER AT EXTRA COST)
REPLACE GEAR BOX OIL
REFILL COOLANT
ROAD TEST
12 mths Warranty OR 12000 Miles
NOTE** WARRANTY MAYBE REDUCED IF VEHICLE IS TUNED**
**698cc Refurbish***From   £1150.00 + vat